FEATURED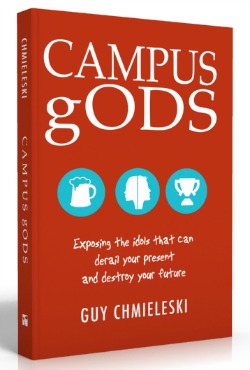 CAMPUS gODS: Exposing the Idols That Can Derail Your Present and Destroy Your Future
The North American campus is filled with things — ideas, opportunities, and experiences — that vie for the attention and allegiance of today's student.
Both Christian and non-Christian students will give themselves to something — with the hope that it will be significant and change everything. And although there are a lot of interesting things to think about, opportunities to explore, and experiences to have — these things fail to be understood correctly when given the Supreme position in one's heart — and life.
It's with this sensitivity to the college experience that Guy Chmieleski wrote his new book, CAMPUS gODS. CAMPUS gODS steers clear of the typical moralizing tone so often taken with today's students in favor of meeting them where they are and outlining a reasonable faith with spiritual depth.
Despite boldly foraying into the seductive minefield of "campus gods," the book maintains a conversational and even invitational tone. The book will be perfect for small groups of college students to read and talk through together.
CLICK HERE to visit the CAMPUS gODS Homepage.
Share your email address and I'll share the first chapter, the gOD of Achievement, with you!
Shaping Their Future: Mentoring Students Through Their Formative College Years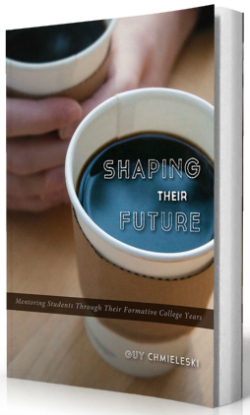 This is my first book — geared towards campus and church leaders, parents, employers, volunteers — and really anyone who might serve as a mentor for college students.
You can read more about Shaping Their Future — including the book description, endorsements, and information about how to purchase a copy — by clicking here.
Shaping Their Future is now available for purchase at Seedbed.com, but you can get your 40-page preview by leaving your email below:
CLICK HERE to visit the Shaping Their Future Homepage
Books
Do you know of a resource that should be listed here, but isn't?  If so, please send me a note in the form down below!