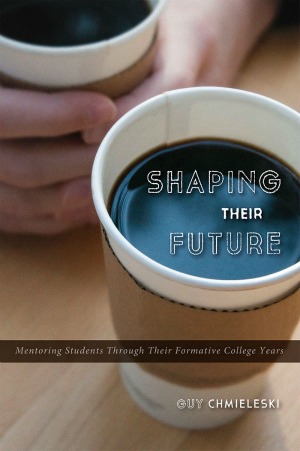 Friends! I find it hard to believe my first book Shaping Their Future: Mentoring Students Through Their Formative College Years will release one month from today — on March 11th!!
It just doesn't seem real to me. But my publisher assures me this is really happening.
In preparation for its release, I've made a few changes to the blog that I'd like to tell you about.
First, I got rid of the menu below the header that used to display all of the categories of blog posts. In a lot of ways it was an entryway into the archives — which can now be accessed through an Archive link in the right sidebar of almost every page.
Second, in its place I created a new menu that includes that following links: #ShapingTheirFutureBook, #iMentor, and #FOCSI13. Here's what you need to know about each:
#ShapingTheirFutureBook is what you might expect — the landing page for my forthcoming book. Currently it has a number of endorsements for Shaping Their Future. A lot of great stuff like this one from Steve Garber:
A primer allows us a way in, introducing us to the ideas and issues that matter. Guy Chmieleski's Shaping Their Future is just that, a primer for people who understand that the college years are critical years. Written almost as a conversation between a mentor and a student, the book walks through the dynamics of forming a faith that makes sense of life for the rest of life.
Steven Garber, Principal of The Washington Institute and Author of The Fabric of Faithfulness
A lot of great people have said a lot of really nice things about the book. I hope you'll check it out as you have time.
#iMentor is a page talking about a mentoring initiative that I'm launching in conjunction with the release of Shaping Their Future. Why? Because I believe that a book is only as good as it gets you to live differently. This will be a call to action — a chance for readers to commit to mentoring others, and challenging others to join them in investing in the next generation.
#FOCSI13 is the link to the 2013 Faith ON Campus Summer Institute. This conference is a natural tie-in to the book and initiative — and I hope you'll consider joining me, and my special guest Tim Elmore, for this one-of-a-kind event happening in June.
Third, we'll soon be releasing Chapter 1 of Shaping Their Future here on the blog. If you've already subscribed to my blog to receive the Weekly Updates then you'll get this delivered right to your inbox as soon as I have it. If you have not already signed up for the Weekly Update, you'll need to do that in order to receive the free download. I promise it will be worth it — and that I won't do anything weird with your email address. You can unsubscribe at anytime — but I hope you won't. If you scroll down below this post, you'll see where to subscribe.
Also, at the end of the free download will be a chance to pre-order the book. If you like what you read in chapter 1 than I hope you'll strongly consider making the purchase right then and there. And if you're not convinced after your first read through — come back to it after a couple of days and read through it again. If you work with college students — in any capacity — then I believe this book will greatly benefit you.
Finally, if there's anything you can do to help get this book into the hands of others like you — those who desire to see college students make the very most of their formative college years — I would greatly appreciate you sharing it with them. It could be parents, pastors, professors, coaches, employers — or anyone who has a consistent engagement with college students.
I'll soon be setting up a Facebook Event Page for the Official Release Party. It will be an online event only — but a way to get the word out to others — and this could be a way for you to let your friends and colleagues know about this new resource. Just invite them to the party!
So that's the big update today — exactly 1 month from the official release. Thanks for being  a part of the journey!